The demand for switching higher currents in electric vehicle (EV) charging applications is increasing rapidly. ZETTLER relays, specifically designed for "New Energy" purposes, are especially suitable in these types of applications.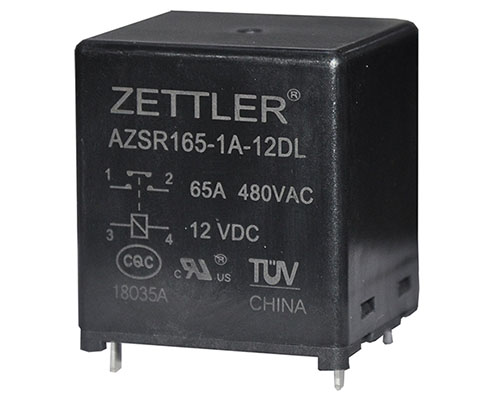 ZETTLER AZSR165 relay series are 1-pole high-power PCB relays, initially developed for solar inverter applications. With a UL, CUR and TüV approved rating of up to 65 A (carrying) and 100k switching cycles (Making 10A, Carrying 65A, Breaking 10A,@480VAC, Res.), the relays are also suitable for EV charging in IEC mode 3 with the requirements of at least 50k switching cycles, according to the IEC61851-1 standard.
The AZSR165 series is the economy version of the ZETTLER AZSR190 series that features a 90 A rating and 100 A as high current version AZSR190T.
For wall box chargers with a lower charging capacity, the ZETTLER AZSR143 relay series with a UL, CUR and TüV approved rating of up to 50 A (carrying) and 50k switching cycles (20 A at 277 VAC on, carry 50A, 20A 277VAC off, Res.) or AZSR131 with TüV approved rating up to 33 A with 50k switching cycles can alternatively be used.
In addition to relays, ZETTLER Group also manufactures magnetics and transformer componentssuch as current sensors, as well as a broad line of LCD and TFT displays.
For more information, please visit www.zettlercn.com or contact us at sales@zettlercn.com
About Zettler Relays (Xiamen) Co. Ltd.

ZETTLER RELAYS., a ZETTLER Group division with one of the broadest product ranges in the industry, continues to supply both commercial and industrial sectors with application engineering and product designs that provide customers with the optimal technical solutions they desire.
Because of their high reliability characteristics, ZETTLER Relays are used in a wide spectrum of applications, including Power, HVAC/R, Energy Management, Lighting, Metering, Automotive, Industrial, Tele-Communications, Security, Home Appliances, Medical, and a range of NEW ENERGY Solutions with special Solar Inverter and Electric Vehicle Charging Relays. For decades, customers in these industries have embraced ZETTLER Relays for their quality and agree that "It's a better Relay".