On February 3rd, 2023, Xiamen Zettler Experimental Center successfully passed the "China National Accreditation Service for Conformity Assessment (CNAS)" Testing & Calibration laboratory accreditation according to ISO/IEC 17025:2017 and was awarded the "Laboratory Accreditation Certificate". This indicates that the Xiamen Zettler Experimental Center has achieved the nationally recognized Testing and Calibration experiment level and management ability standard under accredited scope.
Xiamen Zettler Experimental Center was established in 2007, mainly in providing testing services for the company's product engineering process, manufacturing process, parts accreditation, product quality verification and product Type Test, etc. The experimental center has the footprint of 500 square meters and is equipped with more than 130 sets of advanced experimental measuring equipment, with the ability to carry out various tests such as environmental test, fire hazard test, reliability test, performance test and application test for electronic and electrical products according to relevant national & industry standards and customers' standards.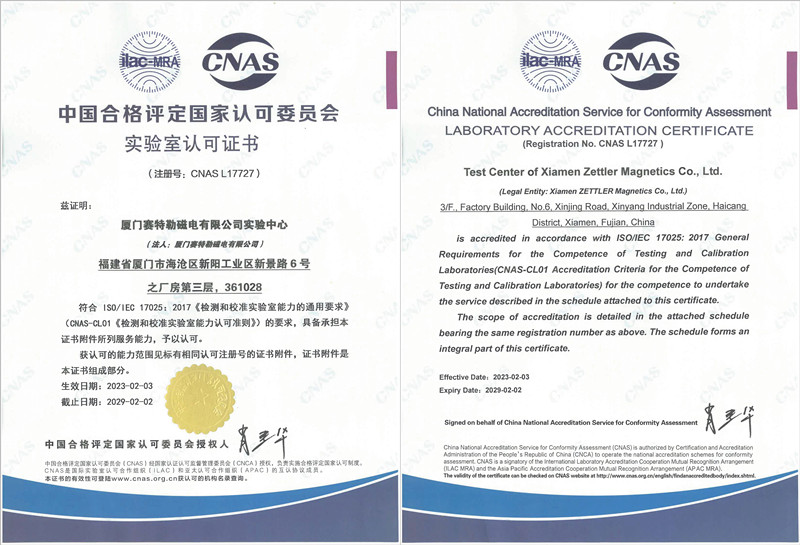 As the global production base and China headquarter for ZETTLER group, XIAMEN ZETTLER provides a diversified range of high-quality electronic components and solutions in Displays, Magnetics and Relays to global customers. For any of your query or requirement, please contact us at sales@zettlercn.com.